Water Crisis The Global Impact And The Net-Zero Lifeboat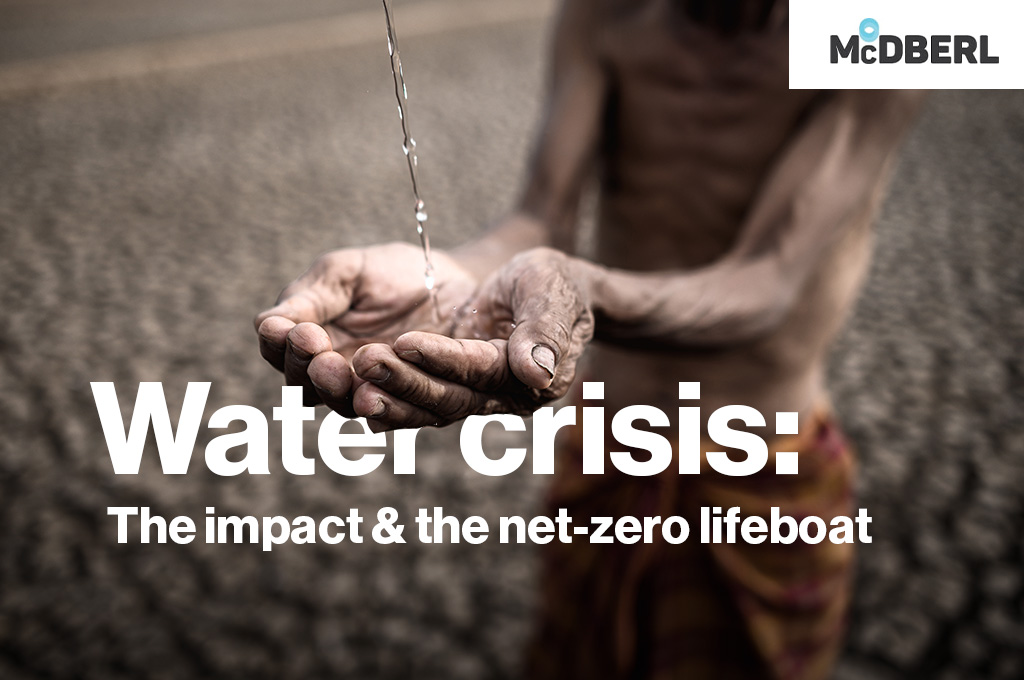 Net positive water is not an academic notion anymore. Less than 0.007% of water available globally is fit to drink. Out of that ,the UN is currently predicting a 40% shortfall in all freshwater resources globally by 2030. As water shortages, overuse, and droughts surge, a global water crisis is imminent. 
Even in India, around 30 Indian cities are facing grave water shortage according to the WWF report on water scarcity. The quality of water supplied in our cities is worse. Most Indian cities cannot meet the per capita water supply limit of 135 litres per day set by the Central Public Health and Environmental Engineering Organisation. Urban areas are facing economic water scarcity where they are not able to manage and use the water available to them due to lack of infrastructure. The question is how can we develop our cities, curb pollution, keep environmental damage to the minimum and make sure that everyone has access to clean water, air and energy. Water conservation and water efficiency are two ways in which we can bring about a change.
The Net Positive Water LifeBoat
As concerns over climate change & its repercussions grow, "Net-Zero" has become the hope for our future. Net Zero Energy aims to decrease carbon dioxide and other greenhouse gas emissions and attain a state of balance. But while Net zero energy has been hyped & starting to be actioned around globally, Net positive water has only recently been identified as a critical way ahead globally, during the recently concluded COP26  climate conference.
What can we do to become self-sufficient and sustainable net positive water economies?
Buildings Of Future & making Net positive water a reality
Green buildings are environmentally responsible building designs that consider the environment, minimize the impact of construction and are able to adapt to the changing environment. A critical aspect of green building is using water responsibly and reducing dependency of building occupants on external sources of water by recycling existing water supply as well as harvesting rainwater. Especially in India, the leading green certification agencies like IGBC (Indian Green Building Council) , LEED India(Leadership in Energy and Environmental Design), GRIHA (Green Rating for Integrated Habitat Assessment) consider water utilization, efficiency and conservation of a building as input parameters for the final rating.
Achieving a Net positive water architecture
A water sensitive design can be achieved by
Optimizing water consumption by using water efficient fixtures such as taps, showers, dual flush toilets, waterless urinals, dishwashers, washing machines and even garden irrigation system
Recycling grey water & blackwater(water from washing machines, showers, toilets) through water treatment facilities with better capacity. This water can be used in flushing toilets and gardening.
Rainwater Harvesting  – Capturing, treating and reusing  rainwater through rooftops and other creative ways to keep the water equation positive. Preventing rainwater runoff to drainages by creating rain gardens and repurposing paved areas.
Efficient HVAC System: Reducing the consumption of indoor potable water and being energy efficient by optimizing overall water usage. This includes using cooling towers that use evaporative cooling to reduce the temperature inside. The water is reused and recycled again and again.
Pressure Reducing Valve: By installing pressure reduction valves and low- flow plumbing fixtures to conserve water.
Benefits Of Going Green for Water Conservation
Here is how a green building can help with moving towards a net positive water equation for your campus:
Environmental benefits – The building sector has the potential of creating a self -supporting water efficient society and achieving the goal of net positive water.  Some of the results we have on building level now are,
The buildings certified as Green by the Indian Green Building Council saves 20-30% water compared to conventional buildings in India.
Green star certified industrial buildings have shown great savings on potable water, energy and carbon emissions every year. With water efficient buildings, you can ensure that less wastewater is run off to rivers and oceans.
Economic benefits– The financial benefits of green buildings include cost savings on utility (reduce your water and electricity bills) for the people who use these buildings, while offering higher property value for developers and increased rates of occupancy.
Going green reduces costly demands of infrastructure upgrades on buildings like installing desalination plants for making water usable to humans.
The asset value of Green buildings is around 7% more than conventional buildings. This can make your investment future proof.
In the long term, a net positive water powered building leads to reduced water overheads for the residents, by reducing dependency on external water sources.
Social Benefits – The benefits of going green is finally the wellbeing of  people using the buildings. Access to cleaner water and air can improve overall health.
People working in well ventilated green buildings get better sleep and show improved cognitive functioning.
People who live and work in buildings with better water and indoor air quality show more productivity.
Building A Sustainable Future with water positive structures
Water is the basic right of every human being and it is the duty of every developer to make sure that the building inhabitants have access to clean water supply throughout the year. It is not just enough to generate water on-site, independent from seasonal rainfall or water bodies, but also to ensure effective recycling and reuse of the existing water, combined with efficient and judicious use.
At McDBERL, we consider water conservation as a critical piece of sustainability strategy and strive to make every campus we work on self-sustainable for water. Some notable examples of our work around water conservation include:
 The IIM Trichy project which resulted in a net positive water campus and achieved 48% Water savings through efficient water fixtures
Infosys Huballi project, where 100% recycle and reuse of treated wastewater was achieved & 80% saving in freshwater demand with efficient fixtures
Want to know how you can achieve water conservation & self-sustainability in your residential/commercial buildings? Reach out to info@mcdberl.com for more information