ONE WATT Building Challenge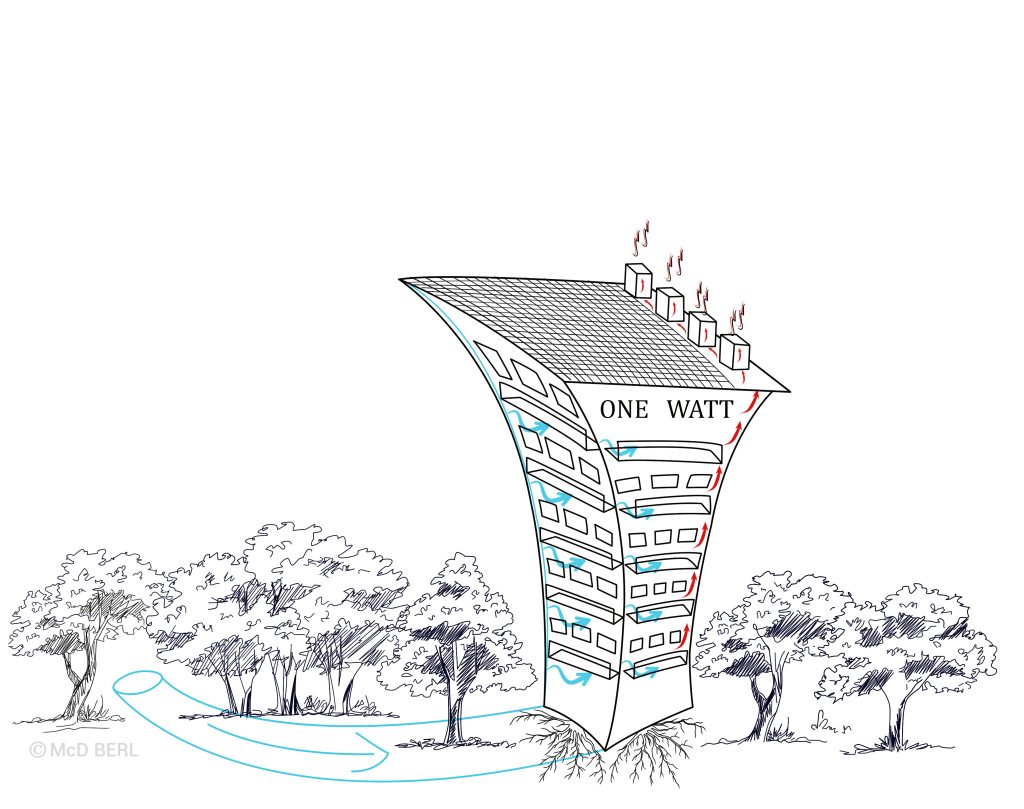 World Green Building Week is going on and what better than to challenge the imaginations and limits of sustainable engineering? McD BERL proposes the aspirational challenge of the One-Watt Building.
What is it? How to achieve it? Read on to figure it out.
One-Watt Building:
Think of a commercial office building with an electrical demand load of only one watt per square foot. Traditionally, this is impossible to even conceptualize.
The breakup of the electrical load of a typical commercial building:
Computer Load: 2 W/Sq. Ft
Lighting Load: 0.8 W/Sq. Ft
HVAC Load: 2 W/ Sq. Ft
Others (Server, PHE, Ventilation, etc): 1.2 W/Sq. Ft
Which totals to 6 W/Sq. Ft
The breakup of the electrical load of an energy-efficient building:
Computer Load: 1 W/Sq. Ft
Lighting Load: 0.3 W/Sq. Ft
HVAC Load: 0.8 W/Sq. Ft
Others (Server, PHE, Ventilation, etc.): 0.9 W/Sq. Ft
That totals to 3 W/Sq. Ft. Which is an impressive reduction in energy consumption.
But to achieve a truly 1 W/ Sq. Ft Building, we must go further.
Here's how:
Reduce Urban Heat Island
As a first step, it's important to address the immediate outdoor environment. The ambient air temperature around the building must be reduced. Designing to take advantage of wind flow, incorporation of vegetation, water bodies, and right surface finishes positively influence the outdoors. A cooler microclimate reduces the need for air conditioning.
Shading
Creating extensive shading for windows and walls directly reduces the heat striking the building skin.
Reduce Envelope Load
Reduce the heat gain from the envelope by the addition of wall and roof insulation and low-E glass. Optimum window-to-wall ratio without hampering the natural light and ventilation majorly reduces the envelope load.
100% Daylight
Daylight strategies eliminate the need for artificial lights between 8 a.m. to 6 p.m. Even the distribution of daylight across the floor plate enhances occupant visual comfort and provides a better working environment.
Thermal Mass
Built mass acts as a thermal storage medium and delays heat entry into the space during the day. It stores heat during the day and releases it at night when it is cool. Thus, keeping the indoors comfortable throughout the day.
Computers
Use energy-efficient computers that consume less than 50 Watts.
Utilize Operating System Power Settings and
Use Energy-Efficient Software to set the computer to sleep or hibernate after a certain period of inactivity.
Lifts
High-Efficiency Motors:
Variable Frequency Drives (VFDs):
Regenerative Drive System:
Energy Storage System:
Intelligent Control System:
STP (Sewage Treatment Plant)
Design BIO STP or DEWATS for no use of electricity
Decentralized Wastewater Treatment Systems (DEWATS)
Bio Septic Tank Systems (BIO STP)
Design a passive cooling system.
Natural Ventilation Techniques.
Wind Towers or Wind Catchers.
Design Solar chimneys.
Use stack Ventilation
Design ultra-low energy cooling system
Such as an Earth air tunnel and passive down draft evaporative cooling system to cool the building in summer
Passive downdraught evaporative cooling (PDEC) system.
Earth Air Tunnel system.
Night Ventilation.
Take the challenge to design a 1W/Sq. Ft building with McD BERL. Contact us for more information.